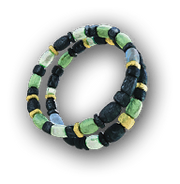 Gyke (died 431 BCE) was a Greek sailor and a part-time-pirate who served under captain Gelon on her ship Shark's Tooth during the Peloponnesian War.
Biography
At some point, Gyke and Gelon fell in love with each other.[1]
Gelon made a deal with the Pythia of the Sanctuary of Delphi around the Peloponnesian War, with the oracle providing Gelon with intel on where pilgrims were coming from. They boarded the Shark's Tooth, were taken to Phokis, and Gelon shared the profits with the Pythia.[1]
In 431 BCE Gelon visited the Pythia, while Gyke and the crew went to seek out and 'help' pilgrims stuck in the shallows nearby. When they failed to return, and Gelon was approached by the Spartan misthios Kassandra, Gelon asked the misthios to see what had happened. Unfortunately, the Shark's Tooth had sunk, taking Gyke with it.[1]
Appearances
References
Community content is available under
CC-BY-SA
unless otherwise noted.