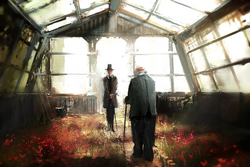 Gustav Meyrink (19 January 1868 – 4 December 1932), born Gustav Meyer, was an Austrian author, storyteller, dramatist, translator and banker. During his youth, he was a member of the Hermetic Order of the Golden Dawn.
In 1891, Meyrink was tasked by his Hermetic superiors to meet with William Robert Woodman, one of the order's founders. Meyrink approached Woodman while the latter was tending to his flowers, and Meyrink asked him for his help as an editor. Woodman refused, and Meyrink left, at which point an assassin was sent to poison Woodman.[1]
Trivia
Appearances
References
Community content is available under
CC-BY-SA
unless otherwise noted.