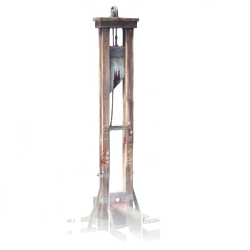 The guillotine was a machine designed to swiftly execute criminals by decapitation. It was sometimes referred to as the "National Razor" because it was the official method of execution in France during the late 18th century. Originally intended as a humane and equal form of capital punishment, it was very popular during the French Revolution and the Reign of Terror for use by the radical revolutionaries to kill political dissidents.[1]
History
The guillotine was proposed and co-invented by Joseph-Ignace Guillotin and bears his name. Tobias Schmidt helped its development by suggesting that the blade be angled, resulting in a quicker kill.[2] In 1789, Dr. Guillotin came under fire with journals written that harshly criticized the creation of the guillotine, he employed the help of the Assassin Arno Dorian to discreetly replace them with more positive journals.[3]
Around 1792, Schmidt began construction of one of the machines with the Royal Executioner Charles-Henri Sanson.[4] However, after Sanson had executed two tax collectors, their men stole parts of the guillotine in order to lure him into a trap and seek revenge. Sanson later recruited Arno Dorian to retrieve the parts. Once Schmidt and Sanson had all the necessary components for the machine, they tested it before being ambushed by more of the tax collectors' henchmen seeking revenge. With the help of Arno, they managed to fend off the henchmen.[5]
Notable victims
Gallery
Appearances
References