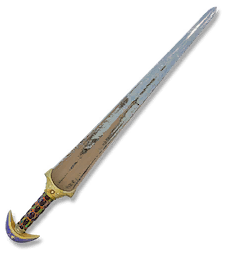 The Gudbrand Blade was a double-edge, straight sword whose gleaming white blade and majestic design associated it with heroism and honor.
Description
Highly distinct among swords of Egypt in the 1st century BCE, the Gudbrand Blade bore a sleek and glistening, wide, double-edged white blade which tapered to a sharp point. Perhaps most unique of the weapon's profile was the hilt itself. Like many swords of this era, it lacked a true crossguard, having only a golden stop that held up the blade in the fashion of a cup, but the grip was exceedingly thin. The narrow grip, painted in a vibrant shade of blue, ensured that despite the absence of a guard, the stop sufficed as one in function anyways. Completing this elaborate hilt was the golden pommel which, crescent-shaped, arced forward towards the grip. Owing to the majestic appearance of the sword, it was thought to be befitting of heroes and the most valorous of warriors.[1]
History
By the mid-1st century BCE, the Gudbrand Blade had found its way to Egypt, then under the reign of the Ptolemaic dynasty.[1]
Weapon statistics
| Rarity | Quality (Max Level 55) | Damage (Max Level 55) | Attributes | Availability |
| --- | --- | --- | --- | --- |
| Common | 114 | 519 | Critical Hit Rate I | Blacksmith, Loot |
Trivia
The Gudbrand Blade is visually based on a dagger of princess Ita daughter of Amenemhat II from the Middle Kingdom period exhibited in the Egyptian Museum.[2] However, it's depicted as being sword size in game.
The Gudbrand Blade shares the same weapon model as the Amun's Blade.
Appearances
References
Community content is available under
CC-BY-SA
unless otherwise noted.