This article is about about the bow. For other uses, see Griffin.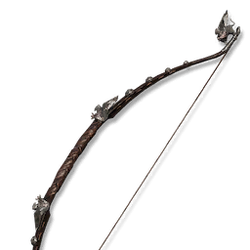 The Griffin was a legendary light bow inspired by and dedicated to the mythological creature of the same name. Small figurines made of metal adorned the limbs of the bow.
The bow was made available to the Medjay Bayek of Siwa via an Animus modification by the Assassin Layla Hassan, who relived the former's memories.[1]
Weapon Statistics
Rarity
Quality (Max Level 55)
Damage (Max Level 55)
Attributes
Availability
Legendary
121
918
Rate of Fire III
Bleeding on Hit II
Elevation Multiplier
Helix Store, Nomad's Bazaar
Description
If the lion is the king of beasts and the eagle king of birds, the Griffin is the ruler of them all.
Behind the scenes
The model of the Griffin, a weapon in Assassin's Creed: Origins, was recycled as the model of the commonly found Recurve Bow, a weapon in Assassin's Creed: Odyssey, and its kind.
Appearances
References
Community content is available under
CC-BY-SA
unless otherwise noted.