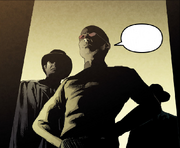 The Green Gang was a Chinese secret society and criminal organization, which was prominent in criminal and political activity in Shanghai, during the early 20th century.
History
Shanghai was a gateway for foreign trade and the presence of the Shanghai International Settlement and the French Concession, which were under different jurisdictions and administrations, also made for a disjointed legal environment that favoured organised crime.[1]
By the 20th century it had acquired great wealth and power and included many successful businessmen. Under Du Yuesheng rule, it controlled the criminal activities in the entire city of Shanghai and became a regular associate of Chiang Kai-shek's Kuomintang.[1]
Appearances
References
Community content is available under
CC-BY-SA
unless otherwise noted.