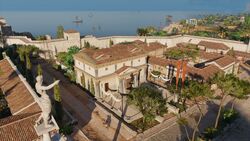 The Great Synagogue was an ancient Egyptian synagogue located in the Jewish quarter of Alexandria, Egypt.
Around 48 BCE, the Medjay Bayek of Siwa visited the synagogue, finding one of the Papyrus Puzzles within.[1]
In 66 CE, the synagogue was destroyed when the Jews in the city, inspired by the revolt in Judea, rebelled against the Romans.[2]
Gallery
Behind the scenes
The Great Synagogue anachronistically features a Star of David. The star appeared centuries after the Ptolemaic era.[3]
Appearances
References
Community content is available under
CC-BY-SA
unless otherwise noted.