"The Great Sphinx. It's smaller than I expected."
―Bayek upon visiting the Sphinx, 48 BCE.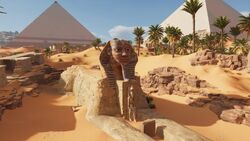 The Great Sphinx of Giza, often known simply as the Sphinx, is a limestone sphinx statue located in Giza, Egypt.
Easily one of Egypt's more recognizable monuments, it lies within the Giza necropolis, a short distance to the east from the Pyramid of Khafre, and represents the mythical creature for which it is named. It is widely believed to be a monument to Khafre, built during the Old Kingdom.[1]
Description
Dating from the Fourth dynasty, approximately 2600 to 2500 BCE, the Great Sphinx of Giza is the largest and oldest Egyptian monument that is still standing. It was carved from a natural limestone outcrop and measures 19.8 meters tall, 73.2 meters long, and 14 meters wide.[2]
The modern Egyptian Arabic name is أبو الهول (Abū al Hūl, English: The Terrifying One, literally: "Father of Dread"), which is derived from Balhoula, in Coptic.[3]
History
During his time traveling Egypt, Bayek encountered the Sphinx and explored a series of tunnels hidden below the statue, leading him to the Isu ruin of Eesfet Oon-m'Aa Poo.[4] The Medjay also visited the market set up in the colonnade near the monument during his search for the member of the Order of the Ancients known as the Hyena.[5]
Gallery
Appearances
References
Community content is available under
CC-BY-SA
unless otherwise noted.