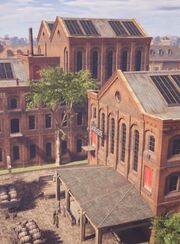 Goodfellow's Brewery was a British company active in London around the mid-nineteenth century.
Goodfellow's Excellent Hop Brew was one of the most popular and appreciated beer brands in London, making the company very successful. In the early 1860s, the Westminster factory was bought by an anonymous party, who gifted it to Lilla Graves, the leader of the Blighters in the borough. There were many rumors suggesting that the company ran on dirty money and child labor, but there was never an official investigation.
In 1868, Clara O'Dea asked the Assassins Jacob and Evie Frye to free the children working in the Westminster factory. The Assassins infiltrated the facility, freed the child laborers and assassinated the overseer, which allowed the Rooks to move in and take control.
References
Community content is available under
CC-BY-SA
unless otherwise noted.