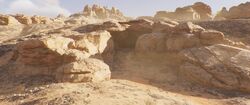 The Golden Tomb was a tomb situated in the Isolated Desert in Egypt, serving as the burial site of Ahmose-ankh, a prince of Egypt during the Eighteenth Dynasty, as well as Maherpa, a nomarch.
The tomb was also connected to an Isu vault, Oun-mAa Niye Ressoot, and was explored by the Medjay Bayek of Siwa in the mid-1st century BCE, who deciphered an Old Kingdom stele therein.[1]
Gallery
Appearances
References
Community content is available under
CC-BY-SA
unless otherwise noted.