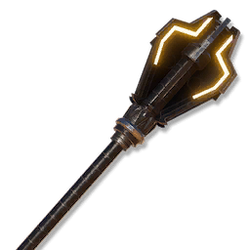 The Glowing Mace was a weapon created by the Isu.
The mace was made available to the Medjay Bayek of Siwa via an Animus modification by the Assassin Layla Hassan, who relived the former's memories.[1]
Weapon statistics
Rarity
Quality (Max Level 55)
Damage (Max Level 55)
Attributes
Availability
Legendary
123
535
Adrenaine on Kill III
Combo Multiplier III
Health for Critical
Purchase the First Civilization Pack DLC
Description
This mace, fashioned of an unidentifiable material, sends a low hum reverberating through your body whenever you take hold of it.
Behind the scenes
The model of the Glowing Mace, a weapon in Assassin's Creed: Origins, was recycled as the model of the Atlantean Mace, a weapon in Assassin's Creed: Odyssey, and its kind.
Appearances
References
Community content is available under
CC-BY-SA
unless otherwise noted.