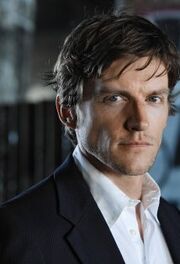 Gideon Emery (born 12 September 1972) is an English actor and voice actor, known for his stage work in South Africa and for providing voices in video games.
He voices Reginald Birch, as well as providing several additional voices, in Assassin's Creed III.
Early life
Gideon was born in England and moved to South Africa with his parents. An only child, he kept himself amused by imitating voices from radio and TV, making acting a logical progression. At university, he was accepted into both the Fine Arts and Drama departments, opting for the latter. While a student, he was persuaded to audition for a professional theatre production, where he was discovered by lauded stage actor Bill Flynn. This led to his signing with a top agent and his career was started. He began performing in voice-overs in between his studies and quickly rose to the top of the field.
Career
Gideon gained exposure as one of the core performers on Not Quite Friday Night (1995), an SNL-type sketch comedy show, which profiled his natural ability for characters and accents. He went on to appear in the phenomenally successful farce Heel Against the Head, once again alongside veteran Bill Flynn and preeminent South African playwright, Paul Slabolepszy. His performance won him the Vita Award for Comedy; the local equivalent of America's Tony awards. Gideon is also a singer and joined cult a cappella group Not The Midnight Mass. He combined his comedy and musical ability in the critically acclaimed Thin Man Talking and The Great Glendini, for which he recorded a jazz standards album.
On screen, Gideon has appeared in the BBC biopic Rhodes (1996), alongside Kelly LeBrock and Robert Davi in the fantasy The Sorcerer's Apprentice (2002), opposite Steven Bauer in the western Glory Glory (2000), and with Lou Diamond Phillips and Kristy Swanson in the thriller Red Water (2003). Since relocating to Los Angeles, credits include guest appearances on 24 (2001) and CSI: NY (2004), and leading roles in the features Primeval (2007), Train (2008) and Takers (2010).
Assassin's Creed works
External links
Community content is available under
CC-BY-SA
unless otherwise noted.