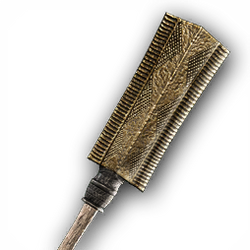 The Giant Mace was a common mace sold and used in ancient Greece during the 5th century BCE.
During the Peloponnesian War, the Spartan misthios Kassandra commonly found this weapon in the inventories of blacksmiths and looted it from bodies and chests during her travels throughout Greece.[1]
Weapon statistics
Rarity
DPS (Lvl 99)
Default Engravings
Availability
Common
7113
(Randomised)
Blacksmith, Loot
Rare
7469
Epic
7829
Description
A mace like this is as hard-hitting as it is hard to swing.
Behind the scenes
The Giant Mace, a weapon in Assassin's Creed: Odyssey, shares its model with a number of other blunt weapons in the same game, one example being the Minotaur Mace. They are all recycled models of the Spade of all Trades and The Uab Block, weapons in Assassin's Creed: Origins. The design of the model appears to be inspired by the ceremonial Sekhem scepter.
Gallery
Appearances
References
Community content is available under
CC-BY-SA
unless otherwise noted.