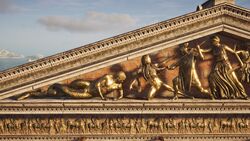 The Giants are a race of supernatural beings, resembling humans, who can be found in numerous mythologies.
History
Mesopotamia
The legendary hero Gilgamesh was said to have slain the giant Humbaba in the Mesopotamian mythology.[1]
Greece
In the Greek mythology the Giants were born from Gaia as the blood of Uranus rained down on her after Kronos castrated Uranus. At some point, the description of the giants in Greek mythology came to include them having serpents for legs.[2]
Best known for their battle against the Olympians, the Giants sought to avenge the Titans the new gods had overthrowns, but failed.[2]
According to the story as relayed by Barnabas to the Spartan misthios Kassandra during the Peloponnesian War, the Greek island of Mykonos was built on or out of the corpses of the Giants slain by the legendary hero Herakles.[3]
Members
Greek mythology
Other
Trivia
Gallery
Appearances
References
Community content is available under
CC-BY-SA
unless otherwise noted.