Arcane: League of Legends - The Loop
Play Sound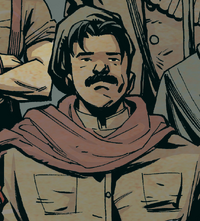 Eric Arthur Blair (25 June 1903 – 21 January 1950), better known by his pen name George Orwell, was an English novelist, essayist, journalist and critic.
Biography
In May 1937, Eric was part of the Partido Obrero de Unificación Marxista (POUM) based in Barcelona, having arrived from England in April. While on the streets, he encountered the Spanish Assassin Ignacio Cardona, who was looking for weapons for his Assassin cell. Eric greeted the Assassin, telling him that he had several black market contacts that might have the weapons he wanted.
As both Eric and Ignacio were in one of the black market shops, they heard gunshots and ran outside to investigate. Eric was informed by one of his comrades that the government had seized control of the telephone exchange building. Before Eric could ask Ignacio to help him, he had already ran off to investigate the conflict.
Appearances
References