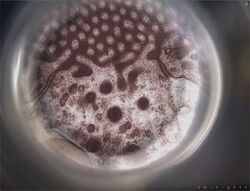 George Emil Palade (19 November 1912 – 8 October 2008) was a Romanian-American cell biologist.
Palade was born in Romania in 1912. After receiving his M.D. degree from the Carol Davila School of Medicine at the University of Bucharest, Palade traveled to the United States to pursue his studies.
Palade is known for performing vital research in the structure and organization of cells and their purpose. The large amount of RNA in microsomes led him to discover ribosomes. Along with his American colleagues, Palade received the Nobel Prize in Physiology or Medicine in 1974.
References
Community content is available under
CC-BY-SA
unless otherwise noted.