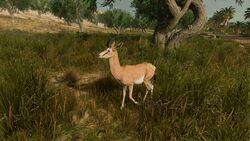 A gazelle is any of the species of small antelopes within the genera Gazella, Eudorcas, or Nanger, which are native to Africa and the western half of Asia.
During the 1st century BCE, the Medjay Bayek of Siwa occasionally hunted gazelles during his journeys throughout Egypt, as their hooves were valued, and their pelt was good for making leather armor.[1]
Appearances
References
Community content is available under
CC-BY-SA
unless otherwise noted.