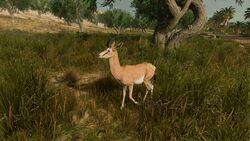 A gazelle is any of the species of small antelopes within the genera Gazella, Eudorcas, or Nanger. Native to Africa and the western half of Asia, like many animals, its pelt could be used to craft leather armor. In the 1st century BCE, gazelle hooves were in demand in Egypt.
References
Community content is available under
CC-BY-SA
unless otherwise noted.