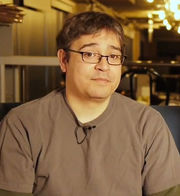 Gabriel "Gabe" Graziani is a Community Developer at Ubisoft Montreal. He was the Senior ComDev on Assassin's Creed: Syndicate. He served as a "public face" to the game, communicating with gamers through Twitter, Facebook, and YouTube, among other social media sites. Prior to working on Assassin's Creed: Syndicate, Gabe also worked as a Community Developer on Assassin's Creed: Brotherhood, Assassin's Creed: Revelations, Assassin's Creed III and Assassin's Creed: Unity.
Before working on the series, Graziani worked on James Cameron's Avatar: The Game. He was also Associate Console Editor at GameSpy.com, Xbox 360 Channel Editor at GamesRadar, and designer at GamePro Magazine.
External links
Community content is available under
CC-BY-SA
unless otherwise noted.