Fool Me Once... was a virtual representation of one of Ratonhnhaké:ton's genetic memories, relived by Desmond Miles in 2012 through the Animus.
Description
Connor and Norris prepared to give Myriam her gift, and Connor accompanied her to the forrest to acquire some skins.
Dialogue
Connor approached Norris.
Norris: She will like it.
It is perfect. No reason to be nervous.
Vas-y, Maurice, c'est rien. (Come on, Maurice, it is nothing.)
Connor.
Connor: Norris! What are you doing out here?
Norris: I want to give Myriam her knife. Maybe you come with me?
Connor: Of course. What is keeping you?
Norris: I am nervous.
Connor: I am certain she will love the blade you made for her.
Norris: What am I doing? Giving a woman a KNIFE as a gift? It's so stupid!
Connor: This is something she will appreciate and use.
Norris: Arg. I made the stupid thing. I might as well give it to her.
Connor escorted Norris to Myriam's camp.
Norris: Allo, Myriam.
Myriam: Hello, Norris, hello Connor. I'd love to stay and chat but I promised Ellen a bale of furs this week and am not even close to making good. I need to get out into the bush right away.
Connor: Two hunters are better than one. I can help if you like.
Myriam: Would you? I'd be much obliged.
Norris: I bring something for you. Maybe it will help.
Myriam: I really must get moving. I will thank you properly when I get back...until then.
Myriam kissed Norris on the cheek, before turning to Connor.
Myriam: Meet me at my northernmost hunting blind after you take your first skin.
Connor encountered a pack of wolves and skinned them. As he climbed to Myriam's hunting blind, he heard gunshots in the distance.
Myriam: Connor? You out there?
Connor? Need some back-up!
Could use a little help here!
Connor reached Myriam, scaring off the poacher she had been fighting.
Poacher: Bloody hell. Not him.
Connor: The time for forgiveness has passed.
Poacher: Please don't kill me! I'll never come back!
I'm sorry! I'm sorry!
I won't come back again! I swear it!
Connor caught up with the poacher.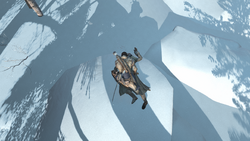 Poacher: Please, mister. Please. Wasn't right for me to come back. I see that now. Just let me go and I'll stay away for good.
Connor killed the poacher and returned to Myriam.
Myriam: If I hadn't had this blade, that lickspittle might've gutted me.
Connor: A timely gift from Norris, it would seem.
Myriam: Indeed. I must make sure to thank him properly.
Outcome
Connor and Norris managed to give Myriam a gift she liked, and Connor took care of the poacher.
Gallery
References