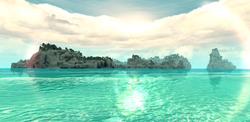 The Florida Keys, previously known as Los Mártires (English: The Martyrs), are a group of islands located off the southern coast of Florida.
History
The Florida Keys were charted by Juan Ponce de León in 1513.[1] The explorer named them Los Mártires, meaning "the martyrs", as the islands looked like suffering men from a distance.[2] As the Spanish Empire grew, its treasure ships sailed near the Florida Keys to Cadiz, making the area a natural point of attack for pirates, as well as a center of pirate recruitment.[1]
In November 1716, the pirates Alonzo Batilla, Olivier Levasseur and Samuel Bellamy attacked the Spanish Treasure Fleet in the area. However, during the fight they were counter attacked by the Templar Francis Hume and the Royal Navy. While Bellamy left his fellow pirates to go after the fleet's galleon, Batilla and Levasseur were forced to withdraw from the fight. After some time, the pair decided to retaliate against the Royal Navy by plundering a British fort.[2]
Gallery
References
Community content is available under
CC-BY-SA
unless otherwise noted.