GTA: The Criminal Enterprises - The Loop
Play Sound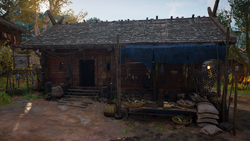 The Fishing Hut was an establishment in Ravensthorpe that served as the residence for Merton and his nephew Arth. They facilitated fulfilling orders for specific fishing goods.
History
The Fishing Hut was built in 873 by the Viking shieldmaiden Eivor Varinsdottir using resource gathered from raiding monasteries. It was one of the first structures in the settlement completed on advice from Randvi, the community's de facto leader.[1]
Fishing deliveries
Arth took orders from the various residents of Ravensthorpe. Eivor helped fulfill these orders, being rewarded for her efforts. After completing all the outstanding orders, Eivor was gifted a swordfish.[2]
Name
Description
Request
Reward
Farmer's Feast
Sylvi's asked for her parents to host a farmers' feast to celebrate the plentiful crops.
2x Eel (regular)
2x Perch (small)
Minor Rune of Life
Valka's Brew
Valka needs certain types of fish to complete what is sure to be a rather pungent brew.
2x Bullhead (regular)
2x Brown Trout (regular)
Minor Rune of Rage
Feeding the Birds
Rowan loves his birds as much as he loves his horses. He'd like them to have a little fish as a treat.
1x Perch (big)
3x Bullhead (regular)
3x Carbon Ingot
Pesce Offering
Gunnar's been grumbling that he's too busy to fish. A little gift should cheer him up.
1x Perch (big)
2x Eel (regular)
4x Brown Trout (small)
Asgardian Scheme (Armor)
An Historic Meal
Octavian is obsessed with an ancient Roman fish sauce called garum, and wishes to make some. Indulge him.
1x Bullhead (big)
2x Perch (regular)
2x Halibut (regular)
Asgardian Scheme (Hull)
Reda's Lucky Fish
After hearing one of Reda's stories, the children are desperate to possess something they call a 'lucky fish'.
1x Brown Trout (big)
2x Brown Trout (regular)
Rune of Reinforcement
Flavor!
Yanli has mentioned that the settlement's cooking leaves something to be desired. She intends to do a bit of leading by example.
1x Shad (big)
2x Brown Trout (regular)
3x Halibut (regular)
Feather Rune
Putrefaction
Petra wishes to learn more about tracking the scents of dead fish to judge time, type, and weather conditions.
1x Halibut (Big)
3x Shad (regular)
4x Haddock (small)
Nickel Ingot
Eydis' Surprise
The raiders have been particularly good lately. Eydis intends to reward them with a meal.
1x Haddock (big)
2x Halibut (regular)
3x Cod (regular)
Guardian Carving Scheme
Smorgasbord
Tarben is making a dinner of fish on toast, heated over a flame. He'll need a few varieties.
1x Cod (big)
3x Haddock (regular)
2x Burbot (regular)
4x Pollock (small)
Asgardian Scheme (Tailpiece)
Sword and Fishery
The children are talking about using fish as swords. It's unclear what Reda's told them, but they're insistent.
2x Burbot (big)
3x Pollock (regular)
Great Toxin Rune
Cat Attractor
The children want to feed the feral cats that have gathered nearby. At least they keep the mice away.
2x Pollock (big)
2x Cod (regular)
3x Flatfish (regular)
Magister Rune
Cold Storage
Randvi's set out a task to smoke fish to save for the coming months.
2x Flatfish (big)
3x Burbot (regular)
4x Bream (small)
Tungsten Ingot
Honey Trap
Tarben's been using honey from nearby hives, and a bear's been raiding them. Rather than hunt it, he wants to distract it with fish.
2x Bream (big)
2x Pollock (regular)
3x Salmon (regular)
Dark Cross Tombstone Scheme
Farmers' Fish Food
Which fish bones make the best fertilizer? The farmers have placed their bets.
2x Salmon (big)
4x Bream (regular)
3x Grey Trout (regular)
5x Sturgeon (small)
Asgardian Scheme (Sail)
Salves and Potions
Valka needs fish liver to press for oil in some medications.
2x Grey Trout (big)
3x Redfish (regular)
Great Remedy Rune
Scaling Up
Wallace wants to experiment with fish leather, and Petra is keen to see the results.
2x Sturgeon (big)
2x Grey Trout (regular)
3x Mackerel (regular)
Momentum Rune
Happy Anniversary
Gudmund wants to surprise his wife with an anniversary dinner.
2x Mackerel (big)
4x Hake (regular)
2x Arctic Char (regular)
Tungsten Ingot
Pet Festival
The children wish to have a festival for the pets, and fish is the food deemed pleasing to cats, dogs, and birds alike.
2x Hake (big)
2x Redfish (big)
1x Arctic Char (big)
6x Sturgeon (regular)
Asgardian Scheme (Figurehead)
Cosmetics
Tove says that fish scales can be used to make some sort of ink and needs some urgently.
3x Eel (regular)
3x Shad (big)
3x Flatfish (big)
3x Salmon (big)
Swordfish
Appearances
References
↑ Assassin's Creed: Valhalla