New Pokemon Games - The Loop
Play Sound
Fire and Faith was a virtual representation of one of Eivor Varinsdottir's genetic memories, relived by Layla Hassan in 2020 through the Portable Animus HR-8.5.
Description
Eivor met with Count Odo to discuss Richardis's safety.
Dialogue
Eivor arrived in Epernay and found Count Odo, sitting at a table.
Eivor went and talked with Odo.
Eivor: You sent for me, said the queen was in peril.
Odo: I did. Come with me.
Odo led Eivor and talked with her on their walk.
Odo: Look at these workers. Working happily. Working with pride. The beauty of my family vineyard depends on them. The quality of the

wine

is their doing. They're not beasts of burden. They take as much pride in these grapes as I do.
Eivor: I'm not here to admire your vineyard.
Both Eivor and Odo stopped at a worker's take.
Odo: Ah! Plucked the grapes right on time, Roland. Très bien. (Very good.) Dependable as always.
French Man 1: Merci, monsieur. (Thank you, sir.)
Odo: These grapes produce the wine that my vineyard is famous for.
Eivor and Odo kept on walking.
Eivor: I admit, there is an uncommon beauty to these lands.
Odo: Indeed. Come. I am slower than I once was. My physician says the wounds you have delivered should have taken me.
Eivor: You chose to have that fight.
Odo: And you fought for your people and for your honor. I do not hold it against you. Any true leader would have done the same. We are more alike than we first appear, Eivor. And I will carry the scars to remind me.
Eivor and Odo arrived at a pedestal overlooking the vineyard.
Eivor: Sigfred has left these lands. Those axes belong to Toka Sinricsdottir now.
Odo: That should be cause for celebration. But I fear Toka is yet another devil in a mail-shirt.
Eivor: Toka has learned much from Sigfred. Some of what she has learned is how not to be.
Odo: I hope you are right.
Eivor: Your message said Richardis was in peril. Is that really why you sent for me?
Odo: These men represent the growing rebellion against Charles the Fat. I now accept the bitter truth that I find more honor and courage in you, Eivor, a Northerner invader, than my own king.
Eivor: Honor is not bound by country or creed.
Odo: Indeed. And it seems Richardis also knows this. She and that bastard Bernard are more than mere pawns in Francia's future.
Eivor: I gave Bernard to Charles as a bridge to an alliance.
Odo: Yes, well, the boy barely lasted a day with that betrayer before running back to Richardis.
Eivor:
Bernard ... a part of me wanted to hand him over to Charles.
Odo:
What grace you possess prevented you from condemning the boy to a hell in this world. He is better off with Richardis.
Eivor:
Where is the queen?
Odo:
She's hiding in a tavern in Amiens, guarded by my men. But those men have not reported back in ... too long.
Eivor:
I will find Richardis. I am duty bound to return the aid she once gave to me. And ... she is my friend.
Eivor walked away until Odo stopped her.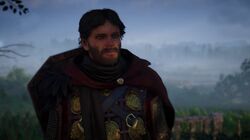 Odo: There is one more thing. This rebellion will succeed. And when it does, my path to the throne will be well charted.
Eivor: Your true ambitions.
Odo: I was a loyal servant to Francia, to Charles and to God. But Charles has been exposed. You want a Frankish king who will never march on England. I am that king.
Eivor: If I kill Charles for you.
Odo: If you killed Charles for Francia, we would not forget.
Eivor: You are an honorable man, Count Odo. If I have a chance to kill Charles, I will.
Odo: And in so doing, you will have sealed an alliance between the people of your clan and all the peoples of Francia.
Eivor: First I must seek out Richardis in Amiens.
Eivor: Then go, Eivor the Wise. My prayers will ask the Lord to guide that blade of yours. We will overcome this evil, as we always have.
Eivor:
No. Murdering Charles on the hope it will bring security to my clan is not the kind of deal I want to make.
Odo:
I misjudged you, Eivor. You stand before your people's best hope...
Eivor:
Enough. You offer a promise you cannot keep, Odo. I'll go to the tavern in Amiens and find Richardis.
Odo: Fine. Bonne chance (good luck), Eivor. I will pray for you to succeed where my men have not.
Eivor left Odo and traveled to Amiens. Upon arrival at Amiens, Eivor started to look for the Slaughtered Calf Tavern. Finding the tavern, Eivor overheard a group of women talking nearby.
French Woman 1: It was a massacre. Mon dieu (My God), bodies scattered like children's toys.
French Woman 2: They say it was a demon. Some say the queen, she... My, what vile witchery has befallen us?
French Woman 1: There's another diable (devil) now. We should go.
Eivor entered the tavern and saw dead guards all around.
Eivor: These men must have been the queen's guard. Tavernkeep, what happened here?
French Man 2: Hide. I am not sure it is gone ... the monster ... so much blood ... just hide!
Eivor: Better to look around myself.
Eivor started to investigate the tavern. On the ground level, Eivor found a note in one of the rooms.
Orders from Odo
Captain,

I trust you and your charge are still safe.

In the absence of communication from you, I hope to send a trusted ally and Northern warrior named Eivor to your location. Pass those you have been guarding into this Northerner's protection. They will be safer there than they ever have been, I assure you.

You and your men are relieved of your current duty, and may see to your families. I will send word when I have need of you.

- Count Odo
Upstairs, Eivor found a door barred from the other side. Probing the outside, Eivor found another way inside the room, which was also filled with dead bodies.
Eivor: Was this how the queen escaped, or the way her enemies got to her?
Eivor investigated the room and found a dead monk on the floor.
Eivor: A monk. What was he doing here? More of Odo's men. They failed to safeguard the queen.
Eivor investigated the bed, which had a dead man filled with arrows.
Eivor: A red poppy. Yes, these are Odo's men.
Eivor found a scroll on a shelf.
Eivor: A scroll. It has an odd marking. Could have been a part of Bernard's studies.
Eivor deduced all the clues she could have found.
Eivor: The tavernkeep may know something about this scroll and its marking.
Eivor went downstairs and spoke to the tavernkeep.
Eivor: There is a dead monk upstairs. And a scroll in a tongue I do not understand.
French Man 2: It's ... probably scripture ... written in Latin.
Eivor: The boy-prince reads Latin...
French Man 2: Bernard? Yes! They were here. That monk was his teacher. He's from the church here in Amiens. I heard the queen tell Bernard to go to the priests and nuns there when he's in trouble.
Eivor: Then I will look in on this church and hope to find the queen there.
Eivor left and headed to find the nearby church. Eivor overheard a child announcer on the streets.
French Child 1: Hear ye, hear ye! Amiens to celebrate King Charles' great victory over the heathens chieftain they call Sigfred. Show your faith and loyalty to the crown by dressing in Amiens blue. Garments at a discount!
Eivor headed near the church and heard a soldier nearby.
French Soldier 1: I saw the boy, I know it! The bastard princeling is around here somewhere.
Eivor: Bernard is here.
Eivor went closer to the church and heard a conversation inside.
French Soldier 2: You hear what Charles means to do to the queen? I don't care if she's a witch or diable (devil). Nobody should be burned alive.
Eivor entered the church and bypassed the guards. Eivor later found Bernard whimpering.
Eivor went to talk with Bernard.
Bernard: No! I won't go back to my father. Something is wrong with him.
Eivor: Quiet, boy. I'm not going to take you to Charles. Not again.
Bernard: But last time—
Eivor: This is different. How did you escape?
Bernard: I snuck through the villa wall where there's construction. I climbed! Then I found Richardis at the tavern.
Bernard:
Eivor! Thank goodness it's you.
Eivor:
What happened?
Bernard:
The monster took us to Father's villa. But Richardis distracted him and I snuck through the construction along the wall. There is a tower there, and if you climb and climb, you can go right over.
Eivor:
Where is Richardis? Where is the queen?
Bernard:
The monster ... she left with him.
Eivor:
You mean the one who slaughtered so many at the tavern?
Bernard:
He said we'd be brought to Father for something. A test. I was—.
Eivor:
What kind of test?
Bernard:
I ... he called it a trial ... yes, that is what he said. A trial by fire. At Father's villa here in Amiens.
Eivor: He means to burn her alive. Go Bernard. Go to your house in

Lisieux

. I will see to Richardis.
Bernard:
I can help. I know ... things. You do not have to hurt my father. He is just ... he gets confused sometimes.
Eivor:
You must keep yourself safe, Bernard. The fate of Francia depends on your survival. It will be a grand task for you to sneak all the way down the Seine alone. This is a hero's burden. Are you up to it?
Bernard:
I can do it.
Eivor:
Good. Now go.
Bernard started to leave but turned back to see Eivor.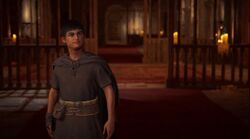 Eivor: Keep going and do not look back. I will see to Richardis.
Bernard: Au revoir (goodbye), Eivor.
Eivor soon left the church and headed to the Villa of Amiens to save Richardis. Eivor headed to the entrance, only to see it was blocked and guarded.
French Soldier 3: Back away, heathen. Church business. Christians only.
Eivor may have found a locked passage below the entrance.
Eivor: Locked. Maybe there is a way over the damaged section.
Eivor may have sleuthed behind a guard, who held the key. Stealing the key, Eivor may have used it to open the locked door.
Eivor found a damaged wall of the villa's perimeter, which was guarded above.
French Soldier 4: My feet ache! The renovations better be worth all these double shifts.
French Soldier 5: They won't be.
Eivor: The wall is being repaired. Bernard mentioned escaping through here.
Eivor entered into the grounds of the villa and needed to find a way towards Queen Richardis. Eivor started to bypass the guards, who were talking about the upcoming trial.
French Soldier 6: Is the queen really going to be put on trial? By her own husband?
French Soldier 7: The king, you mean. I heard it will be a trial by fire.
French Soldier 6: It cannot be! Surely God would stop this.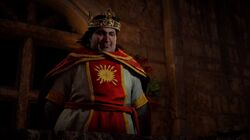 Eivor caught sight of a courtyard tower and its top beam. Eivor climbed to the top and went on the highest beam. Jumping from it, Eivor landed on the villa's main grounds in a nearby stack of leaves. She emerged to see Richardis bound to a pyre as King Charles walked out onto his balcony to address the Frankish people. The weather changed into dark storms as both the queen and the king looked above.
Charles: It appears that God himself is here to bear witness to this trial. May He show infinite mercy on the innocent. And if one is guilty of lying ... scheming ... committing adultery ... may His holy wrath punish your wicked soul.
In the audience, Archbishop Walter du Sens watched and drank while Richardis looked towards Charles.
Richardis: I have nothing to fear from Him. It is you, Charles, who must seek His forgiveness.
A guard came forward with a torch. The guard lit the pyre as Richardis cringed in fear.
Charles: We will soon know who God has blessed with His favor.
Eivor came out of the stacks of leaves and ran towards to save Richardis.
Richardis: My guardian angel approaches.
Out of the crowd, a surprising alive Gozlin walked towards the pyre.
Gozlin: That is no angel. Before my king and before God, it's time I sent this diable (devil) back to Hell where it belongs.
Eivor: Alive? Stand aside, bishop. Your God does not bring men back more than once.
Gozlin unsheathed a greatsword from his back.
Eivor fought against Gozlin and his Frankish soldiers.
Eivor: Out of my way, bishop, or I will kill you again.
Gozlin: The Lord spared me. I am His wrath.
At the same time, the pyre's fire was rising as Richardis quoted an excerpt from the Book of Psalms.
Richardis: "Thou hast delivered my soul from death, mine eyes from tears, and my feet from falling."
Eivor fought against Gozlin, who was weakened half-way through their battle.
Eivor: I think you want the pain. You like it.
Gozlin: I want only to send you to Hell!
Richardis continued praying, this time a different excerpt from the Book of Psalms.
Eivor: "Yea, though I walk through the valley of the shadow of death, I will fear no evil: for thou art with me."
Charles started to shout aloud.
Charles: She should be burning.
Gozlin appeared to be losing severely.
Gozlin: Your wickedness is inhumane.
Suddenly, Richardis stated aloud her own prayer as rain started to pour down.
Eivor: "Lord, heaven and earth obey your command. Deliver me as you deliver those who love you, and know your name!"
Eivor defeated Gozlin in battle as Gozlin fell to his knees. Looking around, Eivor noticed the rain stopped the fire as Richardis looked towards the sky. The townsfolk in attendance were in shock of her survival. Richardis' restraints loosened and she stood towards the people. Walter du Sens saw Richardis and dropped his goblet in awe, then fell to his knees and prayed, with the rest of the townsfolk following suit. Above, Charles was initially just as shocked and then became angry, leaving quickly. Eivor noticed all of that was happening before her.
Gozlin: Why do you hunt us?
Eivor looked down sternly at Gozlin. Gozlin tried to stand.
Eivor slit Gozlin's throat before he could finish, truly killing him. Richardis walked towards Eivor.
Richardis: I must find Bernard.
Eivor: Bernard is safe. I sent him back to the house in Lisieux.
Richardis: Once again, he uses you. You radiate God's grace.
Eivor: You mistake grace for the flush of victory.
Richardis, initially stunned by Eivor's remark, looked down to Gozlin's corpse.
Richardis: Poor Bishop Gozlin, I will pray for his soul. He served the Lord the best way he knew how.
Richardis gave last rites to Gozlin.
Eivor: Charles and I need to talk. It may be the last time he talks to anyone.
Before Eivor could walk in, Richardis stood up to stop Eivor's current plan.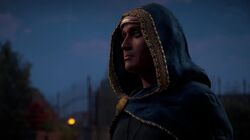 Richardis: No! He is a wounded man who was tortured as a child. Burned and burned again. His whole life is fear. Fear of fire. Fear of God. Fear of disloyalty. He deserves mercy.
Eivor: Not a moment ago, he was to have you burned alive! What would you have me do?
Richardis: Spare him. Subdue him somehow. I can take him to our remote cottage in the east where he can receive priestly guidance. There, we can live out quietly while I continue to prepare Bernard to succeed Charles. I assure you, he will grow up to be a ruler without ambitions for England. Spare Charles and your people will be safe.
Eivor: Fine. If I can, I will spare him. But I need to be sure he can abide these terms.
Richardis: I know you will do what's right. The Lord works through you, and he is merciful.
Eivor:
Charles has dishonored all of his allies and his people. I will not swear an oath to spare him.
Richardis:
This is folly, Eivor. Killing Charles will not assure the safety of your people.
Eivor:
If not, let it avenge all the Norse he has felled here in Francia.
Eivor left Richardis, who was surrounded by guards and townsfolk alike, in awe of her miraculous survival.
Richardis: Father, bless these men who stand humbly in your judgement...
Outcome
Eivor killed Gozlin, who survived Eivor's initial attack. Rain saved Richardis from her trial by fire as Eivor left to deal with Charles personally.
References