He who increaseth knowledge, increaseth sorrow.


This article contains spoilers, meaning it has information and facts concerning recent or upcoming releases from the Assassin's Creed series. If you do not want to know about these events, it is recommended to read on with caution, or not at all.

This template should be removed from the article 12 November 2021.
Where are the paintings?


This article is in need of more images and/or better quality pictures in order to achieve a higher status. You can help the Assassin's Creed Wiki by uploading better images on this page.
Fire From Heaven was a virtual representation of one of Eivor Varinsdottir's genetic memories, relived by Layla Hassan in 2020 through the Portable Animus HR-8.5.
Description
Eivor travelled to the northern part of Paris to meet with Sigfred.
Dialogue
Eivor arrived at the northern part of Paris and saw his men readying the catapults.
Norse Man 1: A tough fight, but Sigfred Skull-breaker led us to victory again.
Norse Warrior 1: Yes. And now these wooden beasts will bring the gods' wrath down upon this city.
Eivor spoke with one of the men.
Norse Man 1: These wooden warriors are ready. Thanks to you.
Eivor: Glad to lend a hand, friends.
Eivor left to meet Sigfred in Paris. Eivor soon overheard a child orating to the public.
Eivor searched for Sigfred.
Eivor: I should find Sigfred at the bell tower. We need to scout some ground for his catapults.
Eivor met with Sigfred at the bell tower of Saint-Merri.
Sigfred: There. That workshop. The perfect place for our catapults.
Eivor: An army of wooden giants to bring down the walls.
Eivor looked down at the area.
Eivor: Those Franks. What are they doing?
Sigfred: Ah. They slay another of their own today.
Eivor: For what?
Sigfred: Who can say? If a man prays to the wrong god, sleeps with the wrong woman, follows the wrong king... by Frankish law, that man dies.
Eivor: Among the Saxons, it is much the same.
The scene below showcased a man kneeling down as Gozlin and an executioner arrived.
Sigfred: Aye, but the Saxons are fewer, they are divided, and they fight both us and the Celts. These Franks though, united under a great king...
Gozlin spoke to the crowd.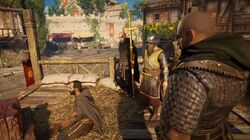 Gozlin: We are God's priests, and we are good. But if thou do that which is evil, fear! For we beareth not the sword in vain.
Eivor: Who are those two? I have seen the warrior priest with Count Odo before.
Sigfred: Gozlin and Ebels, warriors and brothers. One leads the priests of Paris, the other the Frankish armies.
Gozlin: For we are God's priests, avengers to execute wrath upon him that doeth evil. Wherefore ye must—
Ebels: Brother! You talk too much!
Ebels swung his axe and executed the kneeling man.
Sigfred: Come on, let us go take that workshop now.
Both Eivor and Sigfred left the tower.
Eivor: Quite a show they put on. We'll have to fight those Franks soon.
Sigfred: True, but today is not that day. My men are ready. Come, let us take some ground for the catapults.
Eivor: I would never give my warriors a shameful death like that.
Sigfred: Nor would I, but I have met rotten rulers in many lands.
Eivor: You speak true, Sigfred. The Franks have no monopoly on wickedness.
Sigfred: Almost there. Now, let us travel light and stick to the rooftops.
Sigfred and Eivor arrived to see more of Sigfred's men.
Norse Man 2: Sigfred Skull-breaker is here!
Sigfred: Come, men! We shall take this workshop and make it our own.
Norse Man 2: We scouted the place. They keep watch, but not well.
Sigfred: And the sight lines?
Norse Man 2: A perfect place for our catapults to hurl stones upon that cursed town.
Eivor: I never took you for a rooftop runner, Sigfred.
Sigfred: I am no goat-footed climber like you, but I hold my own on cliffs and walls.
Sigfred and Eivor grouped with more of Sigfred's men.
Sigfred: Attack! Vengeance or death!
Eivor: Our new catapults are eager for battle.
Sigfred: The crack of wood and stone is the sound of victory... and vengeance.
Sigfred, Eivor, and his men arrived at Defender's Rest.
Eivor: This place has a good line of sight on the city walls for our catapults. Well done, Sigfred.
The group of Vikings attacked the workshop's guards. After their battle, Eivor and her allies proved victorious, eliminating all the soldiers.
Eivor: A great victory. The gods smiled upon this day.
Sigfred: Indeed. This gives us another place where our catapults can smash down their walls. Eivor. Know you the fate of Vidar Odinsson?
Eivor: The god of vengeance, who fights besides his father in the battle at the end of days.
Sigfred: Yes. Vidar avenges him. Vidar twists the great wolf's neck with his bare hands, then stabs the beast through the belly.
Eivor: So say the Nornir.
Sigfred: Days like today, I walk in the shoes of Vidar, avenging my brother. Other days, there is nothing. We will bring those walls down on Odo's head. And I will avenge my brother.
Eivor: It is good. We shall meet back in camp when all is ready, Sigfred.
Eivor left Sigfred.
Outcome
Eivor and Sigfred infiltrated northern Paris and claimed Defender's Rest as a location for their catapults for the imminent siege.
References