They call me many things: Murderer. Cutthroat. Thief. But you may call me Fire Eyes.


This article is about a subject that lacks an official name and is known only by its nickname, title, or alias.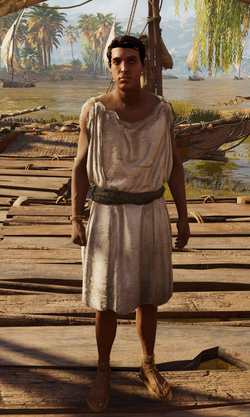 Fire Eyes was an Egyptian actor, poet, and musician who lived during the reign of Cleopatra.
Biography
Fire Eyes was a well known musician from Memphis. Sometime in 38 BCE, he was hired by Merti, a smuggler known as "the Lotus" to perform at her villa in Upper Egypt. While traveling down the Nile to her villa, Fire Eyes' ship was sunk by a group of Philistine raiders, causing him to lose his signature lyre.[1]
The Hidden One Bayek of Siwa later found Fire Eyes on a dock in Yebu Nome, requesting his help to look for his lyre. Bayek agreed and searched shipwreck in the river, eventually recovering the lyre and returning it to the musician. Fire Eyes then thanked Bayek for recovering his instrument, announcing his intention to visit Thebes to perform.[1]
Trivia
"Fire Eyes" was one of the nicknames for Elvis Presley, another actor, poet, and musician from a different Memphis.
Appearances
References
Community content is available under
CC-BY-SA
unless otherwise noted.