GTA: The Criminal Enterprises - The Loop
Play Sound
Fiery Ambush was a virtual representation of one of Eivor Varinsdottir's genetic memories, relived by Layla Hassan through the Portable Animus HR-8.5.
Description
Eivor met with Fulke to cripple Lady Eadwyn's supply lines.
Dialogue
Eivor found Eatun Barn, set between two cliffs. Around the area were several carts of supplies. As she neared, she could hear Fulke arguing with someone.
Anglo-Saxon Man: I ain't in the business of helping you.
Fulke: Dear man, would you live under Eadwyn's boot? For that is where you will be if these supplies reach her castle.
Anglo-Saxon Man: I'd give them over to any man for enough silver. I've a livelihood to keep.
Fulke: I had silver, before I was caged, and I will again. You need only give me time. I'm as good as my word.
Anglo-Saxon Man: It's a crying shame, your story. But a few supplies ain't going to rewrite the history of the world, woman.
Fulke: Good friend, your wares will bring death to the farmers and merchants of this land. Could you live with such a burden?
Anglo-Saxon Man: None of my concern.
Fulke: Not until there's a sword at your neck.
Eivor: There's Fulke.
(If Eivor destroyed 2+ carts before speaking to Fulke)
Anglo-Saxon Man: Stop that! That's my livelihood!

The merchant and his men attacked Eivor and she killed them.

Fulke: You have a brusque way of ending an argument.
Eivor: We don't have time for philosophical discussion.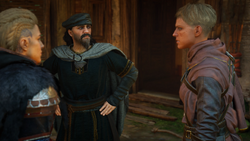 Eivor approached Fulke and the merchant.
Fulke: It's for the good of your shire.
Anglo-Saxon Man: You've lost your senses.
Eivor: What's the noise about?
Anglo-Saxon Man: She's trying to rob me. I warn you, soldiers are coming to escort me any minute.
Fulke: This merchant is taking supplies to the castle. Oil for boiling, arrows, shields, rations. I offered to buy them, but he refuses.
Anglo-Saxon Man: I don't sell on a future promise of profit! Eadwyn's a valuable customer.
Eivor: Then I'll make you a new offer.
Eivor passed the merchant a bag of silver.
Eivor: Here's more than enough coin, friend.
Anglo-Saxon Man: By Jesus, you're a better customer than your needling partner.
The merchant bowed and took his leave as Fulke scowled after him.
Eivor: It's wartime. I'm in no mood to barter. Walk away now or die in a ditch.
Anglo-Saxon Man: You stinking Dane.
The merchant and his bodyguards attacked and Eivor killed them.
Fulke: He should've taken the silver I offered him.
Eivor:
How about a story? I'll spin you a tale in exchange for your wares.
Anglo-Saxon Man:
That's an odd bargain, Dane, but I'll bite. Sing me one of your sagas.
Eivor:
The wild winds wandered,
The seas spit salt.
The night fell into slumber.
Wise Odin rose and bade farewell,
He pulled on boots of leather.
Anglo-Saxon Man:
Bit of a slow start. Pick it up.
Eivor:
Long before, before the beginning,
Before you and I and the others.
Wise Odin looked with his one wane eye,
And stared and blinked and thundered.
Anglo-Saxon Man:
This Odin fellow, he's one of your gods, innit?
Eivor:
The moon burns red,
The sea foams gold,
Wise Odin utters the words.
Anglo-Saxon Man:
Right, this is not what I wanted. Stop it, will ye?
Eivor:
The snake coils, Loki yowls,
Poison drips from the mouth--
Anglo-Saxon Man:
Enough! Enough! Is this some sort of Nordic curse? Run! Go!
The merchant ran in fear.
Fulke: How does it end?
Eivor: They all die.
Eivor and Fulke shared a smirk.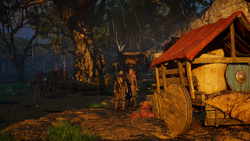 Eivor and Fulke looked over the area.
Eivor: He said soldiers are coming. We can use these oil jars to surprise them. Fewer reinforcements for Eadwyn.*
Fulke: I see visions of burning men. The screams of soldiers aflame. If we place the oil and supplies near the hay along the road, it will burn like hellfire when the soldiers arrive.
Eivor nodded and pointed to the cliff to one side of the road.
Eivor: Take position on that bluff and watch for the soldiers, would you?
Fulke: You'll hear me howl as the men approach.
(If Eivor killed the merchant)
Fulke: The wounds on these bodies weep like little eyes. Should we hide them? Fresh kills will arouse suspicion.
While Fulke climbed the ladder up to the cliff, Eivor moved jars of oil near the supplies and bales of hay along the road.
Fulke: (howling)
Eivor: What was that?
Fulke: My howl! Eadwyn's men approach.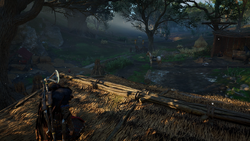 Eivor found a place to hide in wait.
Fulke: Prepare yourself. The soldiers are close.
(If Eivor went up to the cliff by Fulke)
Fulke: That overhanging branch is a good vantage for a first strike.
A troop of soldiers came down the road from the west.
(If Eivor killed the merchant)
The soldiers went up the side path, toward the house.
Anglo-Saxon Soldier 1: Where's this oil merchant? Said he'd be here all day.
Anglo-Saxon Soldier 2: He'll show. We'll set up here for now.
Eivor destroyed the supplies and attacked the soldiers with Fulke's help.
(If the merchant lived)
The soldiers continued down the main road.
Fulke: Spring the trap now!
Eivor broke the oil jars, setting the hay around the soldiers aflame and burning many of them alive. She and Fulke fought those who remained.
Fulke: I'm with you! Attack! Soldiers of Saklas, may you die in ignorance! Cut them down, Eivor.
Once the final soldier was killed, Eivor regrouped with Fulke atop the cliff.
Eivor: That's the last of them. Eadwyn will be waiting for aid that never comes.
Fulke looked over the smoking remains thoughtfully.
Eivor: Something wrong?
Fulke: No, no. Quite the opposite. At Sante Albanes, your brother claimed kinship with the gods. Is it true? Is he descended from the Archons' children? The Isu?
Eivor: Not to be blunt, Fulke, but only half of what you say ever makes any sense to me.
Fulke: Forgive me. I often presume too much of my audience. Men who fear damnation, when ignorance is the greatest of all evils.
Eivor: Ignorance of what?
Fulke: What a perfect sentence.
Fulke considered her words.
Fulke: I'll ask more simply. Could your brother be descended of the gods? Or could he be a god himself?
Eivor: How is that possible? You don't believe such a thing yourself, do you?
Fulke: Not elusive Self-Begotten Light who reigns over all. But a lesser god, imperfect and given to temptation.
Eivor:
I don't know. I want to deny it, but I've... I've seen things in my life. Visions. Prophecies. It's difficult to explain.
Fulke:
Heed your visions, always. You may have been touched by true knowledge.
Eivor:
You spent too much time locked in that fetid cell, Fulke.
Fulke:
Weeks of fasting and prayer and abstinence can clarify that which we otherwise fail to see.
Eivor:
Sigurd is only a man, the son of a king, and my brother. He may think highly of himself, but he's no god.
Fulke:
Yet it's possible his line of kings was fathered by a god? In ages past?
Eivor:
We haven't time for these fantasies, Fulke. It's time I regroup with Geadric. To see how his assault preparations are coming along.
Fulke:
Godspeed, Eivor. I will stay here. To pray for the souls of the dead before I join you.
Before leaving, Eivor looked around. In the house, she found a letter.
Letter from Lady Eadwyn
Be it known that her Ladyship is well pleased with the quantity and quality of the supplies delivered at Eatun Barn. Heretofore, the Trade Tax shall be reduced for your goods.
Outcome
Eivor and Fulke ambushed and killed a bunch of Eadwyn's soldiers and destroyed the oil supplies.
Behind the Scenes
Eivor's line immediately after dealing with the merchant, regarding surprising the soldiers with the oil jars and leaving fewer reinforcements, is taken from the subtitles. What is actually said is just:
Eivor: We can use these oil jars to surprise the soldiers.
References
Assassin's Creed: Valhalla memories