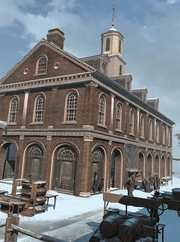 Faneuil Hall is a major marketplace, meeting hall, and prominent landmark in Boston.
Description
Faneuil Hall was built in 1742 and was named after Peter Faneuil, the local merchant who offered to build it at his own cost as a gift to the town. Faneuil Hall was originally meant to be a place for local farmers to sell their products so that the streets would be rid of the carts crowding them.[1]
However, Faneuil Hall was nicknamed as "The Cradle of Liberty" after the famous meeting hall built on its second floor. People met here to raise their voice against the Stamp Act, which was a tax on all stamps used for postage purposes, and it is also famous for the first anti-tea tax meeting held there. At times, the anti-British meetings attracted such a large crowd that Faneuil Hall was not big enough to accommodate all of them, in which case they were sent to Old South Meeting House.[1]
Faneuil Hall also served as an important location for identifying spies. During the war of 1812, people who were suspected to be spies were asked what was on the top of Faneuil Hall's weathervane. If their answer was "a grasshopper", they could pass as a local. If they were wrong, they were convicted as British spies.[1]
During the Siege of Boston, the meeting hall was made into a theatre, though all plays were banned.[1]
Appearances
References
Community content is available under
CC-BY-SA
unless otherwise noted.