Exit Stage Right was a virtual representation of one of Ezio Auditore's genetic memories, relived by Desmond Miles in 2012 through the Animus 2.01.
Description
Ezio Auditore entered the Colosseum, and, along with his recruits, dressed up as actors with the costumes they had taken from Micheletto Corella's men.
Dialogue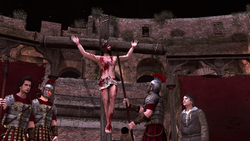 Ezio stood outside the Colosseum.
Ezio: I must get to Pietro before he does.
Ezio climbed up the side of the Colosseum, and upon reaching the top, he made his way to the backstage, eliminating the Borgia arquebusiers along the way.
Pietro: My god, my god, why hast thou thus forsaken me?
Ezio: Merda (shit.) Which cross is Pietro's?
Legionary 1: Hark, hark how he cryeth upon Elijah to deliver him.
Legionary 2: Wait and we shall see whether Elijah dare come here or not.
Pietro: My thirst is great, my thirst is great.
A guard actor gave him some wine from a cloth, rolled onto the end of his spear, which Pietro drank from.
Legionary 2: Yea, thou shall drink no more.
Pietro: Mighty God in majesty, to work thy will I will never cease. My spirit I betake to thee; receive it, lord, into thy hands. 'Consummatum est.'
Centurion: Lords, I say you, this was God's son almighty. I know it must be so. I know by manner of his cry he has fulfilled the prophecy and godhead showed in him.
Bishop: Centurion, as God gives me speed, thou must be daft; thou cannot read. When thou seest his heart bleed, let us see what thou will say. Now, Longyus, take this spear in hand.
Legionary 3: Yes, have this spear and take good heed. Thou must do, as the bishop bade thee, a thing that is full of great need.
Longyus: I will do as he bade me, but on your peril it shall be. What I do I may not see, whether it be evil or good. High king of heaven, I see thee here. On my hand and on my spear running water throw; and on my eyes some can fall that I may see both one and all. Lord, where does this water come from? Alas, alas, and woe is me! What deed have I done? A man I see, sooth to say, I have slain in this stead. Of mercy, lord, I thee now pray, for I was not what I did. Jesus, much have I heard spake of thee, that sick and blind through thy pity thou has healed before in this city as thee has healed me today. Thee will I serve and with thee be, for well I leave in days three thou will rise. Lord, I thee pray.
Ezio reached his recruits and dressed in a costume.
Ezio: I need to get onstage.
Ezio lead the recruits to the center stage. They moved along with other actors without arousing suspicion.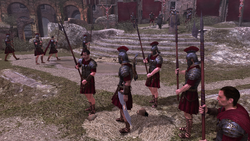 Joseph: Ah, lord God, what heart have ye to slay this man that I here see dead, hanging, that never yet did amiss? For, surely, God's son is he. Therefore a tomb is made for me therein his buried shall be, for he is king of bliss.
Nicodemus: Sir Joseph, I say surely this is God's son almighty. Go ask Pilate for his body and buried shall he be. I shall help thee to take him down devotedly.
Joseph: Sir Pilate, special I thee pray a boon thou grant me as thou may. This prophet that is dead today, thou grant me his body.
Pilate: Joseph, all ready, in good faith! If that Centurion says that he is dead, him will I not deny. Centurion, is Jesus dead?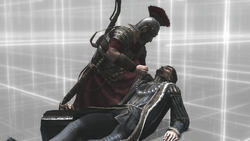 When Pilate pointed towards the Centurion, Ezio recognized him as Micheletto and moved in to stop him.
Micheletto: Hah. You cannot save Pietro. The wine he drank was poisoned. As I promised Cesare, I made doubly sure.
Ezio stood and left him.
Micheletto: I am not yet dead.
Ezio: I did not come here to kill you. He who is the cause of someone else becoming powerful is the agent of his own destruction.
Outcome
Micheletto was spared, and Ezio Auditore learned that Pietro was dying due to the poison coursing through his veins.
Trivia
The name of this memory is a variation of the idiom "Exit Stage Left", which means to exit in an uneventful way, in order to introduce more interesting events.
Even if Ezio did not purchase the second Hidden Blade, he would still use it in the memory corridor.
If Ezio did not assassinate Micheletto in time, a cutscene would trigger in which Micheletto stabbed Pietro with the spear. However, it was possible to quickly assassinate Micheletto after he killed Pietro. This would show the sequence of Ezio and Micheletto speaking in the Memory Corridor, before promptly desynchronizing. 
Even if every Assassin that Ezio has recruited was female, the recruits in this memory would always be male.
Micheletto is seen wearing his usual robes in the Memory Corridor, despite having been dressed as a centurion for the play.
References