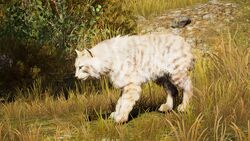 The Eurasian lynx (Lynx lynx) is a type of Lynx. They are related to the bobcats found in the southern parts of North America and the Canadian lynx found in in the northern parts of the same continent.
History
The Eurasian lynx has had populations in Europe and Asia for a long time. During the time of ancient Greece, they could be found roaming the wilds of the main land. They were aggressive, attacking anyone they saw, including the Spartan misthios Kassandra. Following encounters with the lynxes, Kassandra gathered their fangs and claws, for the former were valued at 37 drachma apiece, and the latter at 4 drachmae apiece.[1]
During the Peloponnesian War, Polemon the Wise, a member of the Cult of Kosmos and the Sage of The Silver Vein branch of it, had a pet lynx, who stood and fought by his side.[2]
Gallery
Appearances
References
Community content is available under
CC-BY-SA
unless otherwise noted.