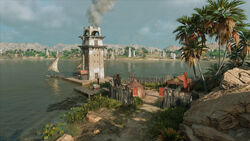 The Euhemeria Lighthouse Camp was a military camp set up around the lighthouse near the town of Euhemeria, Egypt during the 1st century BCE.
In 48 BCE, soldiers working for Berenike, a member of the Order of the Ancients, seized the lighthouse and turned it into their base, conducting what they called "routine investigations" of the surrounding area from there. Some time after, the Crocodile arrived there with two gladiators, Viridovix and Diovicos, and had the soldiers fetch Khenut and her daughter Shadya for interrogation concerning the location of a ledger that Khenut's husband, Hotephres, had stolen earlier. Khenut argued with them, and in retaliation the Crocodile took Shadya and drowned her.[1]
Around the same time, a novice priest of Sobek was tasked with taking gold statues of the crocodile-god to Krokodilopolis, but his ship sank near the lighthouse. The Medjay Bayek of Siwa aided the novice in retrieving the statues from the shipwreck.[2]
Appearances
References
Community content is available under
CC-BY-SA
unless otherwise noted.