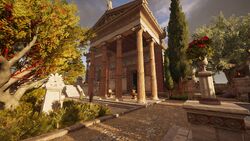 The Erechtheion was an ancient Greek temple on the north side of the Akropolis Sanctuary in Athens, Attika, Greece.
The most significant site of worship on the acropolis, the temple was known for its caryatids and was dedicated to the Greek gods Poseidon and Athena. In addition, it was also dedicated to Erechtheus and Kekrops, two legendary kings of Athens, the latter of which was said to have been buried beneath the portico.[1] The Olive Tree of Athena was located west of the temple.[2]
During the Peloponnesian War, the temple was visited by the Spartan misthios Kassandra.[3]
Trivia
The statues from the Porch of the Caryatids were used in Origins. They are present in a building in the poor district of Alexandria.
Gallery
Appearances
References