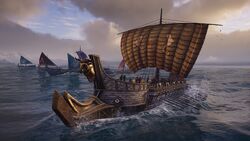 The Eos was an Athenian trireme captained by Sokos, a member of the Gods of the Aegean Sea branch of the Cult of Kosmos, and the self-proclaimed 'protector' of the Obsidian Islands.
During the Peloponnesian War, the Spartan misthios Kassandra forced Sokos out into naval battle. Aboard the ship Adrestia captained by Barnabas, as well as Spartan fleet, Kassandra engaged the Eos and her fleet in battle, and sank it, killing Sokos.[1]
Behind the scenes
The name of Eos, a ship in Assassin's Creed: Odyssey, references the Titan goddess of the dawn, Eos, in Greek mythology.
The sails of the Eos bear the emblem of Phokis: two dolphins flanking a tripod.
Gallery
Appearances
References
Community content is available under
CC-BY-SA
unless otherwise noted.