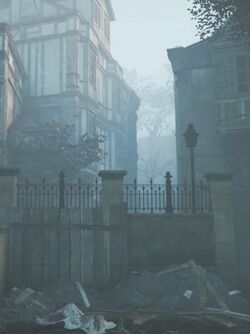 Elizabeth "Long Liz" Stride (27 November 1843 – 30 September 1888) born Elizabeth Gustafsdotter was a prostitute living in London during the 19th century, famous for being the third victim of the serial killer Jack the Ripper.
Biography
Born in the parish of Torslanda, west of Gothenburg, Sweden, Elizabeth turned to prostitution early on. By March 1865, Stride was registered by the Gothenburg police as a prostitute and was diagnosed twice for a sexually transmitted disease. Elizabeth also gave birth to a stillborn girl on 21 April 1865.[1]
Sometime in her life, she moved to London to work for Lady Olwyn Owers' brothel. Here she usually appeared drunk at the Thames Magistrates Court.[1]
The supposed body of Elizabeth was found early in the morning of 30 September, in Dutfield's Yard in Whitechapel just an hour before the Ripper's fourth victim, Catherine Eddowes, was discovered.[2]
During the Master Assassin Evie Frye's investigation, the crime scene and the evidence of Assassin rings suggested that the real Elizabeth and Catherine escaped and her brother Jacob's initiates took their names as covers.[2]
Appearances
References
Community content is available under
CC-BY-SA
unless otherwise noted.