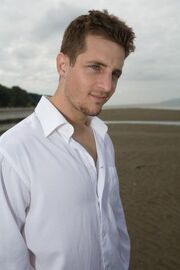 Elias Toufexis (born 27 October 1975) is a Canadian actor. He has appeared in TV shows such as The Expanse, Da Vinci's Inquest, Dead Like Me, The Dead Zone, Supernatural, Smallville, and Stargate Atlantis and has voiced characters in video games such as Need For Speed: Carbon, Rainbow Six: Vegas 2, Deus Ex: Human Revolution, and Splinter Cell: Conviction.
In the Assassin's Creed series, Toufexis provided the voices for the various Informants in Assassin's Creed, Federico Auditore da Firenze and Ugo in Assassin's Creed II and Assassin's Creed: Brotherhood, various NPCs in Assassin's Creed: Revelations, and Jacques Roux in Assassin's Creed: Unity. He also provided the voice and motion capture for King Leonidas and Nikolaos of Sparta in Assassin's Creed: Odyssey.
Assassin's Creed works
External links
Community content is available under
CC-BY-SA
unless otherwise noted.