Roblox: DeepWoken - The Loop
Play Sound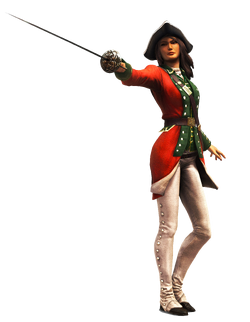 Eleanor Mallow was the daughter of Commander Matthew Davenport, a British military officer, who enrolled in the British Army during the American Revolutionary War.
Considered a brat, Eleanor lived a life that was heavily regimented in a military fashion by her Templar father. Because her devotion to the Templar Order was so absolute, she attempted to hide her identity and carried out missions against the Assassins, though Matthew secretly knew. Young, strong, and malleable, she was considered the fascist type that the Templars admired.
In 2012, her genetic memories were used as an Animi Avatar by the entertainment branch of the Templar company Abstergo Industries, to influence the general public via the Animus games console, under the title of the Red Coat.
Trivia
Eleanor's surname differed from that of her father's, implying that it was a false name that she used to cover her identity, though it might also be derived from her mother.
Eleanor is a variant of the name Aliénor, from Occitan phrase alia Aenor, "the other Aenor"; the original bearer of the name, Eleanor of Aquitaine, was named after her mother, Aenor, but the name changed in order to differentiate between them.
Gallery
Appearances
References
Primary stage
Secondary stage
Tertiary stage
Quaternary stage