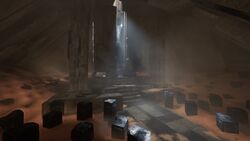 Eesfet Oon-m'Aa Poo is an Isu vault located along the Nile in Egypt, underneath the Great Sphinx of Giza. This vault remained hidden until some time in 48 BCE, when the Medjay Bayek of Siwa visited all of Egypt's Stone Circles and in turn triggered its appearance.[1]
Within the vault, Bayek activated a pedestal and witnessed a recording made by the Sphinx messenger. Dated one hundred and nine days after the Great Catastrophe, the message displayed was intended for Layla Hassan, who was reliving Bayek's genetic memories in 2017. Apart from this, Bayek acquired an ancient suit of Isu armor.[1]
Trivia
Gallery
Appearances
References
Community content is available under
CC-BY-SA
unless otherwise noted.