He who increaseth knowledge, increaseth sorrow.


This article contains spoilers, meaning it has information and facts concerning recent or upcoming releases from the Assassin's Creed series. If you do not want to know about these events, it is recommended to read on with caution, or not at all.

This template should be removed from the article 5 June 2019.
Where are the paintings?


This article is in need of more images and/or better quality pictures in order to achieve a higher status. You can help the Assassin's Creed Wiki by uploading better images on this page.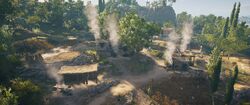 Dyme was a small settlement and the westernmost in the region of Achaia, Greece.
History
In the 5th century BCE, its inhabitants specialized in the production of sails and other naval-related textiles, primarily for the naval construction center in Patrai.[1]
Around 422 BCE, the misthios Kassandra settled down in Dyme alongside the Proto-Assassin Darius and his son Natakas. Kassandra developed a relationship with Natakas that led to the birth of their son, Elpidios.[2]
Sometime later, Dyme was attacked by the Order of Dominion led by Amorges, a former friend of Darius in Persia. While Darius and Kassandra were able to fend off the Order and eliminate the Immortals, they were unable to prevent the death of Natakas and the kidnapping of Elpidios. Natakas was subsequently buried at a watchtower next to the settlement.[3]
Appearances
References