He who increaseth knowledge, increaseth sorrow.


This article contains spoilers, meaning it has information and facts concerning recent or upcoming releases from the Assassin's Creed series. If you do not want to know about these events, it is recommended to read on with caution, or not at all.

This template should be removed from the article 14 December 2021.
Where are the paintings?


This article is in need of more images and/or better quality pictures in order to achieve a higher status. You can help the Assassin's Creed Wiki by uploading better images on this page.
This article is about the Discovery Tour for Norway and England. You may be looking for for other Discovery Tours.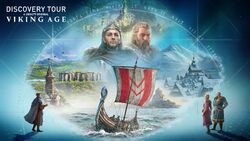 Discovery Tour: Viking Age is an educational mode for Assassin's Creed: Valhalla.
The mode will release as a free downloadable add-on on 19 October 2021[1] and is available for free to those who own the base game, or for purchase as a stand-alone version on PC. In it, players are to free roam the game's maps of Norway and Anglo-Saxon England and learn about both countries' histories through a series of guided tours.
Tours
Gallery
References
↑ Assassin's Creed (@assassinscreed) on Twitter "Experience life in the Viking era like never before. Discovery Tour: Viking Age releases as a free expansion for Assassin's Creed Valhalla players on October 19th! pic.twitter.com/zLpP9ZHLlD"