GTA: The Criminal Enterprises - The Loop
Play Sound
This article is about the Discovery Tour for ancient Egypt. You may be looking for for other Discovery Tours.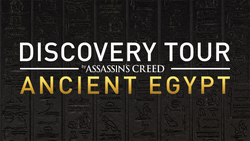 Discovery Tour: Ancient Egypt is an educational mode for Assassin's Creed: Origins.
The mode was released as a downloadable add-on on 20 February 2018 and is available for free to those who own the base game, or for purchase as a stand-alone version on PC. In it, players are to free roam the game's map of ancient Egypt and learn about the kingdom's history through a series of guided tours.[1]
Tours
Egypt
Pyramids
Alexandria
Daily Life
Romans
Characters
| Image | Name | Description |
| --- | --- | --- |
| | Bayek of Siwa | Medjay. Husband to Aya of Alexandria. |
| | Aya of Alexandria | Trained as a medjay. Wife to Bayek of Siwa. |
| | Julius Caesar | Roman politician and general. |
| | Cleopatra VII Philopator | Descendant of Alexander the Great's general, Ptolemy I Soter. Queen of Egypt. |
| | William Miles | Modern day mentor. Father of Desmond Miles. |
| | Layla Hassan | Technical engineer. Former employee of Abstergo Industries. |
| | Ptolemy XIII Theos Philopator | Brother-husband of Cleopatra VII Philopator. Pharaoh of Egypt. |
| | Khemu of Siwa | Son of Aya and Bayek. |
| | Shadya of Euhemeria | Egyptian. Daughter to Hotephres and Khenut. |
| | Reda the Merchant | Egyptian. Nomadic merchant. |
| | Hasina of Yamu | Daughter of Menehet, an old friend of Bayek. |
| | Actor | One of the famed actors of ancient Egypt, in costume. |
| | Egyptian Woman | Wearing clothing typical of the common Egyptian folk of the era. |
| | Egyptian Nobleman | Wearing clothing typical of the nobility of Ancient Egypt. |
| | Egyptian Noblewoman | Wearing clothing typical of the nobility of Ancient Egypt. |
| | Roman Soldier | Wearing clothing typical of Roman soldiers of the era. |
| | Greek Nobleman | Wearing clothing typical of the Greek nobility of the era. |
| | Greek Noblewoman | Wearing clothing typical of the Greek nobility of the era. |
| | Greek Man | Wearing clothing typical of the common Greek folk of the era. |
| | Greek Woman | Wearing clothing typical of the common Greek folk of the era. |
| | Ptolemaic Soldier | Wearing clothing typical of Egyptian soldiers of the era. |
| | Bayek with Egyptian Hedj | Wearing hedj clothing, a more distinguished though still practical outfit. Hedj means "white". |
| | Bayek with Egyptian Irtyu | Wearing irtyu clothing, favored by the nobles. Irtyu means "blue". |
| | Bayek with Egyptian Narok | Wearing the robe of an elder Maasai warrior. |
| | Bayek as a Persian Commander | Purple is the color of leaders, feared by their enemies. |
Timeline
Gallery
References