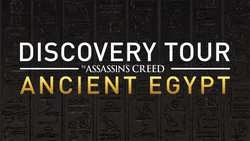 The Discovery Tour is a downloadable education tool which allows players to explore various worlds without combat and gameplay constraints.
The mode was first released for Assassin's Creed: Origins on 20 February 2018. It is available for free to those who own the game, or for purchase as a stand-alone version on PC. It introduces a mode that allows players to free roam the map and learn about Ancient Egypt's history through guided tours.[1]
The mode is set to return in Assassin's Creed: Odyssey and will allow players to explore Ancient Greece.[2]
Assassin's Creed: Origins
Gallery
Reference