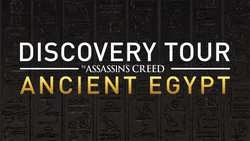 The Discovery Tours are downloadable education tools which allows players to explore various worlds without combat and gameplay constraints.
The first Discovery Tour was released as a downloadable add-on for Assassin's Creed: Origins on 20 February 2018 and is available for free to those who own the base game, or for purchase as a stand-alone version on PC. In it, players are to free roam the game's map of ancient Egypt and learn about the kingdom's history through a series of guided tours.[1]
A second Discovery Tour, this time set in ancient Greece, is due to be released as downloadable content for Assassin's Creed: Odyssey and standalone.[2]
Discovery Tours
Assassin's Creed: Origins
Assassin's Creed: Odyssey
5 Tour Guides (Aspasia, Barnabas, Markos, Herodotos and Leonidas I of Sparta) covering 5 different themes (philosophy, architecture, daily ife, war, and myths)
300 World Stations 30 Tours divided into 26 regions with interactive quizzes.
Explore with 36 unique avatars and 15 mounts, accessible by progressing through Discovery Tour objectives.[3]
Gallery
Reference
Community content is available under
CC-BY-SA
unless otherwise noted.