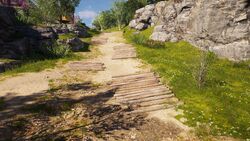 The Diolkos was a paved way passing through the Isthmus of Poseidon in Korinthia, Greece. It was used to move boats from the Gulf of Korinth's west ramp to Saronic Gulf's east ramp, and vice versa, saving them a dangerous trip around the Peloponnese.
During the Peloponnesian War, the misthios Kassandra explored the length of the road.[1]
Trivia
Despite the real-world Diolkos having a distinctive paving and stone track during this era, the path that connects the two ramps in-game is largely an ordinary dirt road, albeit with some wooden beams near the ramps.[2]
Furthermore, the player character has dialogue that states "Who ever thought carrying boats across land was a good idea?" with a non-complimentary tone. This implies that the misthios did not actually use the Diolkos and always took the the longer, more dangerous sea route around the Peloponnesus to get the Adrestia on either side of the peninsula.
Appearances
References
Community content is available under
CC-BY-SA
unless otherwise noted.