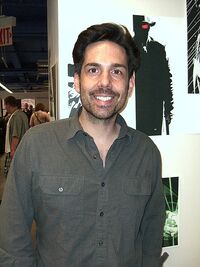 Dennis Calero (born 2 January 1972) is an American comic book artist and illustrator, known for his work on titles such as X Factor, Legion of Superheroes, and Kolchak. He was worked on several Assassin's Creed transmedia projects, primarily for comics published by Titan Comics. With his writing partner Fred Van Lente, with whom he previously co-wrote the series Cowboys & Aliens, he co-scripted the Assassin's Creed: Templars comic series. Calero eventually took over from Van Lenter following the fifth issue however.
Assassin's Creed works
Cover gallery
Assassin's Creed
Assassin's Creed: Templars
Assassin's Creed: Uprising
External links
Community content is available under
CC-BY-SA
unless otherwise noted.