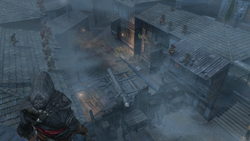 Whenever the Byzantine Templars attacked an Assassins Den in 16th century Constantinople, the Ottoman Assassins would engage in a Den Defense in order to maintain their control over it. Several such defenses were successfully carried out by the Italian Mentor, Ezio Auditore da Firenze, during his stay in the city.
The Ottoman Assassins also helped the guilds in other Mediterranean cities to defend against Templar attacks.
The process
During a Den Defense, Ezio had the ability to command and deploy Assassin units to defend the den from approaching Templar troops. Positioning themselves on rooftops and behind barricades, the Assassin forces would wait for the impending waves of Templars. Each Assassin had a combat specialty, ranging from crossbowmen to bombers, and barricades could also be placed to halt Templar progression. In order to call in assistance, morale was used to deploy Assassins and build barricades, which was gained automatically over time and sometimes from looting Templar corpses. Occasionally, deployed Assassins could be killed and barricades destroyed, which would prompt Ezio to call in replacement troops and construct new blockades.
He could also participate in the defense more directly, by firing his Hidden Gun at approaching soldiers, which would signal his troops to attack that squadron, or, periodically, command a cannon to be fired at a group of soldiers or a war machine.
The Templars would attack in several waves, leaving little time between each for the Assassins to prepare. From there, they would advance up the street, pausing only once encountering a barricade. On their death, Templar soldiers could be looted for akçe, bomb ingredients or morale points. However, once the soldiers reached the Assassin Den, they would begin attacking it, and would not stop until they forced the Assassins out or were killed.
List of Assassin units
List of Templar units
Trivia
Gallery
References
Community content is available under
CC-BY-SA
unless otherwise noted.