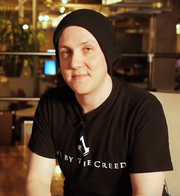 David T. Rancourt (a.k.a. UbiDiiLite) is a Community Developer at Ubisoft Montreal. His position duties include brand development, web site traffic growth, web site UI and advertising revenue. He is currently a Mission Designer working on Assassin's Creed: Unity.
Prior to being a member of the Assassin's Creed III development team, David worked as a Community Developer on Assassin's Creed: Revelations and Assassin's Creed: Project Legacy. He also worked closely with production on Assassin's Creed II and Assassin's Creed: Brotherhood as a DEV Tester, helping to refine and define missions, walkthroughs, and cinematics. During Assassin's Creed III's development, he was a ComDev, alongside Gabe Graziani, and co-hosted the Ubisoft-supported "Assassin's Podcast" with Andrien Gbinigie.
External links
Community content is available under
CC-BY-SA
unless otherwise noted.