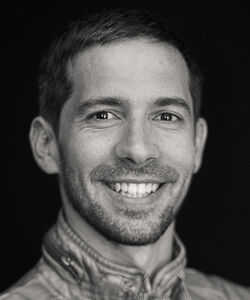 David "Rez" Alvarez is a Senior Concept Artist at Ubisoft Annecy, as well as a teacher at the Emile Cohl school. His contributions to the Assassin's Creed series primarily consist of setting and landscape concepts for the series' multiplayer and singleplayer components.
Biography
Alvarez was born on 14 May 1981 in Haute-Vienne, France. Initially, Alvarez studied commerce at Institut d'Economie scientifique et de Gestion DUT (1999 – 2001), but upon completing this course, he felt that art was his true calling. In 2004, Alvarez enrolled at the Ecole d'art supérieure Emile Cohl, where he studied graphic design, art and illustration. During this time, he worked freelance for Eden Games on various projects, including a joint university project with Unreal Engine in which he received a Distinction grade.
Upon graduating in 2008, Alvarez began his career with Ubisoft, where he worked for a year before pursuing other freelance projects. However, Ubisoft were so impressed with his style and art that they actively sought to have him work on their Assassin's Creed series.
Games credited
Trivia
During his time working on his final year project for university, Alvarez gained proficiency as an Unreal Game Engine editor.
He was also one of the artists at Ubisoft to have had their work featured in an international art exhibition.
As well as his previous accomplishments, Alvarez is an award winning sculptor.
Gallery
The following gallery contains concept artwork created by David Alvarez for the Assassin's Creed series.
External links
Community content is available under
CC-BY-SA
unless otherwise noted.