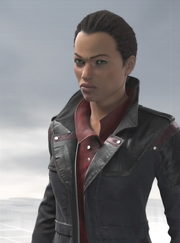 Born: 14 June 1988.
It's tempting to say that Violet da Costa is an evil version of Rebecca Crane, but then, that assumes you haven't spent much time with Rebecca Crane.
(I'm armed. -RC)
Violet was born in Barrie, Ontario, and completed a bachelor's degree with a double major in mathematics and computer science. Fun times. She was looking for work in the intelligence community when she was recruited by Abstergo to work as a technologist.
After the original Sigma Team was annihilated in Florence, Violet was Otso Berg's first recruit into the new version. She serves as tactical and technological support. Her ability to assess situations and identify priorities means that she's able to tell whom to kill first. always handy in this job, but not what you'd call a particularly transferable skill. All this also means that in addition to being incredible handy with technology, she's a trained killer.
Violet's services are in high demand, and she is frequently sent around the world to various Abstergo facilities in order to fine-tune and innovate on various operating systems, network security, and intrusion detection systems.
She's a Templar. She's also Canadian. Frankly, both make me shudder.
Community content is available under
CC-BY-SA
unless otherwise noted.