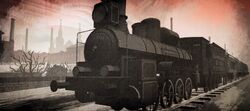 The Trans-Siberian Railway is a network of railways connecting Moscow with the Russian Far East and the Seal of Japan. Having a length of 9.289 km, it is the longest railway line in the world. It was built from 1891 to 1916, under the supervision of the Russian government, involving the Tsars themselves, Alexander III, then Nicholas II. During World War I, Russia used a number of armored trains, equipped with heavy weapons, in order to quickly and easily transport more firepower. The heaviest trains featured 6 inch guns, and a number of smaller arms.
Community content is available under
CC-BY-SA
unless otherwise noted.