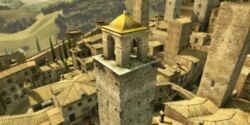 Connected to the 13th Century Palazzo Vecchio del Podestà, the Torre Rognosa rises 51 meters above San Gimignano.
Podestà (Power in English) was the title given to the appointed head of many Italian cities. The Palazzo Vecchio was the residence of the Podestà of San Gimignano for about 100 years, until, in 1337, he moved across the square into the Palazzo Comunale.
Why would the Podestà simply abandon tradition like that? Perhaps because the Palazzo Comunale has the largest tower in San Gimignano.
Tower Envy: do not underestimate it as a force for change.
Community content is available under
CC-BY-SA
unless otherwise noted.