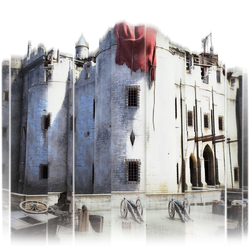 The Bastille was one of the many construction projects undertaken by Charles V, and was intended to protect the Porte Saint-Antoine gate and its adjoining Saint-Pol palace. As the centuries wore on and the fortress became less useful as a fortification, it was used more and more often as a prison, finally being completely dedicated to that purpose under the reign of Louis XIII. The prisoners held there, who rarely numbered more than 40 each year, were most commonly political prisoners.
By 1789, the Bastille was deemed useless, and was costly to maintain, with 250 soldiers for a mere nine prisoners.*
--
* I had an idea for how to bring the costs down. Fire 247 soldiers. Their system is like having a plane with one seat but hundreds of captains.
Hang on - that sounds brilliant.
--
This was at a time when Paris was packed with prisons of all shapes and sizes. Nonetheless, it was seen as a symbol of the oppression of the Ancien Regime, and when the French Revolution broke out, it was one of the first buildings to be looted and destroyed. The Revolutionaries' quarry became quite literally that, as the mob demolished the building and put its stones to better use. Some of the stones were used to consolidate the Pont de la Concorde, others were taken as individual or collective relics, many were carved into tiny models of the entire fortress and sold as souvenirs.
Community content is available under
CC-BY-SA
unless otherwise noted.