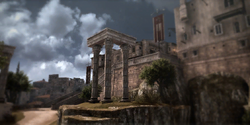 Standing at the western end of the Roman Forum between the Temple of Concordia and the Temple of Saturn, the Tempio was built to honour the Flavian Dynasty, comprised of emperors Vespasian, Titus and Domitian. As part of the deification process, construction was ordered by Titus shortly after his father Vespasian's death in 79. Legend tells us Vespasian's last words were: "Pity, I think I'm turning into a god." Which, incidentally, will also be my last words.
Community content is available under
CC-BY-SA
unless otherwise noted.