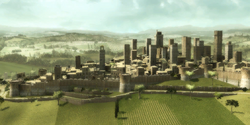 Named after Saint Geminianus, who supposedly conjured up a dense fog to save the city of Modena from Attila the Hun, San Gimignano was founded in the 3rd Century. The city grew from the 10th Century onward as a stopping point along the pilgrimage to Rome.
In 1199, once its citizens grew wealthy, San Gimignano separated from the bishops of Volterra and became self-governing. The city's distinctive towers were created as its wealthy citizens competed to display how much money was actually in their pockets. In its heyday, the city had 72 towers.
But the plague of 1348 decimated San Gimignano. Without money for upkeep, the town started to fall apart. The council appealed to Florence, and Florence took control.  
Community content is available under
CC-BY-SA
unless otherwise noted.